Investigators claim to have found more than 6,000 pictures and 250 video clips of child pornography on the computer of NTM Member Joel Price. He was subsequently indicted on two counts of distribution of child pornography and one count of possession of child pornography. No charges of sexual abuse were filed and the police do not believe that he had any sexual contact with children.
Here is the timeline:
April 2008: Internet Crimes Against Children task force traced child porn being shared on the Internet to Price's previous home
May 2008: Joel Price's computer searched
June 2008: Joel Price resigned from his position as "Youth Pastor" with New Tribes Mission, Sanford, Florida
December 18, 2008 Joel Price is arrested by the US Marshals Service and released on $50,000 bond
December 27, 2008 The story breaks in the press. New Tribes Mission is contacted by many reporters and the NTM spokesperson tells the media that Joel Price resigned earlier in 2008. The spokesperson "thinks" it was because of the investigation.
The spokesperson also said that Joel Price had been a missionary in Venezuela, but only worked as a maintenance man, not with children. A few reporters found a copy of NTM's publication (NTM@Work, Vol.63, No.2, November 2004) online. On page seven was a picture of Joel Price going over a Bible verse with an MK. Joel had this to say in the article: "I have recently returned to Venezuela to serve at an MK school. I am teaching senior high Bible classes and plan to start a youth ministry in the coming year."
When NTM was contacted about this discrepancy, widely reported in local media, the spokesperson was "unavailable."
March 2009 Joel Price pleads guilty to possession of child pornography; two charges of distributing child pornography are dismissed
May 2009 Joel Price sentenced to 63 months in federal prison
Some questions that come to mind:
Are we to believe that between April and December 2008, NTM was unaware that Joel Price had run afoul of the law? No one knew that his computer had been searched? Joel Price's parents are NTM missionaries. His wife's parents are NTM missionaries. No one knew? No one prepared for the inevitable questions that the press would ask?
Between his arrest on December 18 and the press inquiries a week later, did no one do any research on his past involvement with the mission, specifically his contact with children? Is the NTM spokesperson so inept as to speak to the press with no knowledge of events? Or so duplicitous as to tell an outright lie?
How did they not know that Joel Price HAD had contact with children in Venezuela? Or, if they knew, Why did they lie?
When the press found out about the discrepancy, why didn't NTM rush to make a statement giving the painful truth? "Yes, he did have contact with children, both in Venezuela and as our Youth Pastor. I should have calibrated my earlier statement differently." Would that have been hard?
Since Joel Price's conviction, has NTM done an internal investigation to find out if any abuse did occur at the NTM school in Venezuela?
Oh, wait. We already know about internal investigations. I will quote from the Daytona Beach (Florida) Online Journal: "In December 2006, George Allen Goolde — a foster parent and full-time mission employee [of New Tribes Mission]Â — was arrested and charged with molesting four children in his care. He was convicted and is serving a 50-year prison sentence.
"At the time he was arrested, officials at the mission said its internal investigations showed 'no incidents of concern.'"
Mark that: "No incidents of concern." That was the finding of an internal NTM investigation. I hope the Fanda Eagles have a lot of confidence in the internal investigation that NTM is doing on their behalf.
NTM is not doing very well on investigations. They doing very poorly on transparency. Why?
News account here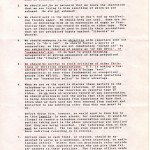 Note: markup is not ours