Senegal abuse investigation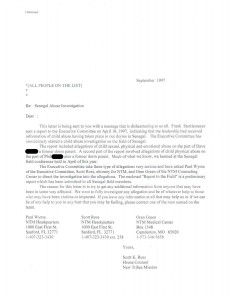 Read more documentation





Hit Counter provided by
laptop reviews
The Mik's story along with the
communication between NTM
proves that leadership knew and did not act.
For whatever is hidden is meant to be disclosed, and whatever is concealed is meant to be brought out into the open. Mark 4:22
We know that what happened at Fanda, Senegal is not uncommon to NTM boarding schools around the world. We welcome your story of abuse here if you want to share with us. While most of us at Fanda were abused in some form what we find especially damaging is the abuse of leadership who chose not to protect us at the time in spite of documented evidence and who have still not reported the crimes to authorities nor sought justice for us today, 20 years later.
Search
Wall
Latest on Wed, 01:08 pm
taylor nathan: These are totally bias articles, the writer is a victim of something terrible, but i'm an ntm MK. I can tell you this we have a mission, to bring others [...]
ThreeWillows: @Wild bill I don't really understand what you're trying to say. The fact that you placed forgiveness before justice says a lot to me. As I've stated [...]
More Than Disgusted: Wild bill, that is all well and good. We know that. And criminal acts require interaction with the law and consequences for the abusers. Christian love and mercy also require [...]
Wild bill: As we choose Forgiveness justice and humility,we worship in Sprit and Truth,which destroys the power of lies and Darkness!
Abby: I'm not a ntm mk, but I have a story of "abuse" at an mk school. Today, almost 30 years later, I find myself in an epic struggle for a [...]